It is important to keep a clear focus what to reach with analytics and a dashboard – both are actually complementing each other in a very strong way if applied right. Our approach is context-sensitive (definitely not 'one size fits all') and focuses on what supports the company strategy and success best.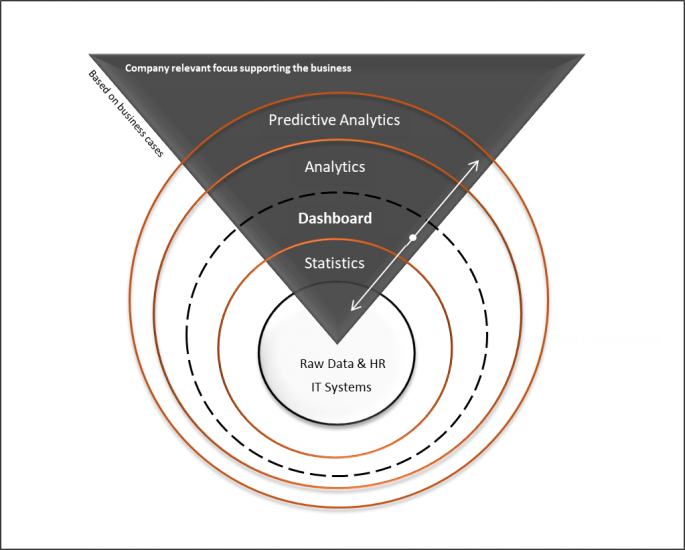 The logical starting point in most projects is the dashboard, focusing on the business needs with high value creating indicators. Based on that design it is easier to shape the IT in the right way providing the required data. On the other side, and based on the measurement results, analytics kick in and explain deviations and fine-tuning actions.
What to expect from a dashboard:
Get full control on all people management processes
Get into the driver seat while working with line managers
Show value HR adds to the company success
Govern even large diversified groups with many independent units (and often even different processes)
Unify language within larger groups and enhance internal best practice transfer
Structure all raw data fields you need in current or to-be-implemented IT systems
What is crucial to consider while developing a dashboard:
Define only high value creating metrics (this is know-how F-Top Institute has gathered over the last 20 years), the rest is maximum interesting as statistics
Define clear target ranges (The F-Top benchmark can give good guidance where to place the goals)
Express every metric with a business case (F-Top Institute provides formulas to convert deviations from target range into money)
To unfold the power of a dashboard there needs to be two additional things done where F-Top Institute has developed an effective solution for:
Creating 'Stories
Every company has very specific stories which needs to be fulfilled in order to create success (e.g. 'attracting and developing top talent within the industry'). Each story consists of different metrics from different processes.
We define, shape and develop the stories – at the end each story even in a one-pager showing everything important to communicate in the company
Training HR professionals to understand, work with and communicate analytics and 'stories' to line management
We have developed a lean process to customise a dashboard to the client's needs, formulating the right metrics while being context sensitive. The demand varies from overall corporate dashboards covering all people management processes to very specific dashboards for only some functions (e.g. recruiting), a single division or region.
Focusing on the business drivers for a specific organization, there are 4 different types of indicators: