Insights into HR practices with proven impact on business performance have been available via the F-Top Benchmark for almost two decades — and many companies with a focus on people management have used this to demonstrate their success and to shape their strategic HR journey. Comparing units of a corporate group based on hard facts and then showing the results to the boardroom in a simple yet accurate way. Now there is an intriguingly simple solution: The HR Excellence Matrix enhances the lessons from the benchmark by visualising the status of HR per unit in two dimensions: process maturity and efficiency.

Using the F-Top Institute's HR Excellence Matrix to compare company units reduces complexity and displays the message HR wants to get across while using a visual format that board members and other internal and external stakeholders will find familiar.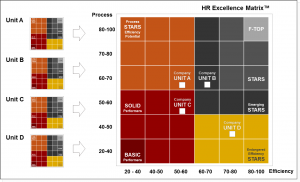 Explaining the current maturity status of HR per unit and getting the buy-in of stakeholders for further action is significantly easier once they feel they understand the big picture and the comparative status of each unit.
For additional value, the detailed qualitative and quantitative hard facts from the underlying F-Top Benchmark can be used to obtain a certification for the maturity status of each unit. The scores in the process and efficiency dimensions determine the unit`s position within the HR Excellence Matrix. The HR Excellence Matrix makes the units comparable based on hard facts.
There are 3 major deliverables linked to the HR Excellence Matrix:
Single KPI-results: displaying the client in comparison to the F-Top, peer group & general benchmark for each single metric.
Rating tables: Clustering metrics & activities to processes and thereforegiving a detailed view how well each process (and sub-processes) is running.
Audit report: linking the findings for each sub-process with detailed recommendations and business cases.