Since 1999, we have been running a knowledge sharing network for 350+ companies worldwide. We have extracted a group called the Financial Top Performers consisting of best performing companies. These companies outperform their peers in key financial terms over a minimum of 5 years.
The F-Top companies achieve 25% more value out of their operating costs regarding people. Our work has clearly revealed that these F-Top companies run their critical people management processes in a way that is significantly different to other organisations. On average, we find a savings potential of 7 million. euros per 1,000 employees.To attain a competitive advantage companies need to look outside their industry – the F-Top concept provides this perspective.
The F-Top Index covers all key people management processes, the knowledge base gives insight into a total of 300+ metrics and 4,000 activities and the related business cases. The Best Practice Platform is a premier global solution, allowing our clients to compare their people management processes with leading companies internationally from all major industries.
The Cross Industrie Approach
In the classic benchmarking approach companies are very good at measuring profit & loss, costs, productivity etc. and they have a very good view of how they are performing compared to previous years and compared to their direct competitors. In the new way of thinking companies are also looking beyond their year-on-year performance and outside their particular industry and country. They see value in comparing themselves with leading performers in other sectors and countries. Some industries are always early adopters of new technologies and are on the forefront of process innovation. It is valuable to get an insight into their approach and to learn which tools and technologies are frequently used and then adapt these to your own plans.
Covering all key people management processes, the knowledge base gives insight into a total of 300+ metrics and 4000 activities. Based on a modular approach, we can conduct an end-to-end health check or a focused deep dive in any key areas. In both cases you will receive a detailed picture of your company´s performance against the entire benchmark and the F-Top group, covering both quantitative and qualitative measures.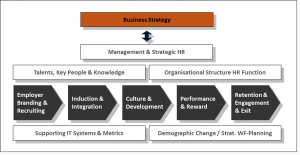 Based on this we can provide 4 different solutions:
The F-Top Solutions address various needs regarding different company situations – all solutions are context-sensitive and de-emotionalise a possible change.
The range of solutions includes an 'end-to-end health check' of all people management processes based on the "F-Top Index". We rate, compare and certify all people management processes. The HR Excellence Matrix enhances the lessons from the benchmark by visualising the status of HR per unit in two dimensions: process maturity and efficiency.
Based on The HR Excellence Matrix/F-Top Index, we offer an easy and efficient way to get the people management processes certified. A detailed audit report points out the areas of excellence as well as possible improvement potentials – together with concrete recommendations and related business cases this is a strong basis to set the right priorities.
Beside the Index, the F-Top Institute offers the possibility to simply buy the Best Practice: There are different Best Practice Transfer Packages available, of which The F-Top Essentials are the most focused and comprehensive ones.
We also support organisations in developing a customised Dashboard – focusing on the most value creating indicators for each process with business cases and supported by the F-Top results.
Finally the Must-Win-Battle Training enables HR professionals and/or line managers to focus on the most critical cornerstones of success in order to gain most value out of the people management processes.
"If there is no clear link to the top or bottom line, why bother measuring?"